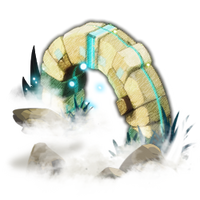 Zaaps are gates that allow instant travel to other zaaps. They are displayed on the map as white/blue spheres. You can only travel to zaaps which you have previously used. All zaaps cost 100
to travel, no matter the destination .

Zaap List
Edit
Astrub - Center
Amakna
Bonta
Brakmar
The Stodeep Mines Zaap in Brakmar is linked with the one in Amakna so if you discover one, the other is automatically available.
Sufokia
Islands
Zaaps seem to be inspired by Stargate series.
They were created by the ancient Eliatropes, who were humans that are born alongside dragons.