This article is a

stub

and may require expansion. Please help out by

editing the page

on the elements below.

.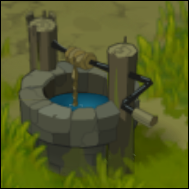 A Well is a small structure from which Buckets o' Water can be obtained. Each Well can supply a large amount of water, and each use will provide 10 buckets. If a well is used too intensely, it may run dry, but will usually refill soon afterwards.
Pumps
Besides wells, it is also possible to get water from pumps, though those are rarer to find. 
Tho, they can usually be found in the Nation of Amakna.
Crafting Recipe
Handyman Lv.50 - Bucket O' Water (50), Baby Redwood Wood (36), Baby Redwood Plank (1), and Dark Carbon Ore (50). Crafted Wells are Decorations/Tools that can be used or "placed" inside of Your Haven Bag.
Locations
There are a number of wells found on each island, but the locations vary.
Amakna
Bonta
Brakmar
Sufokia
Ad blocker interference detected!
Wikia is a free-to-use site that makes money from advertising. We have a modified experience for viewers using ad blockers

Wikia is not accessible if you've made further modifications. Remove the custom ad blocker rule(s) and the page will load as expected.