Description
Edit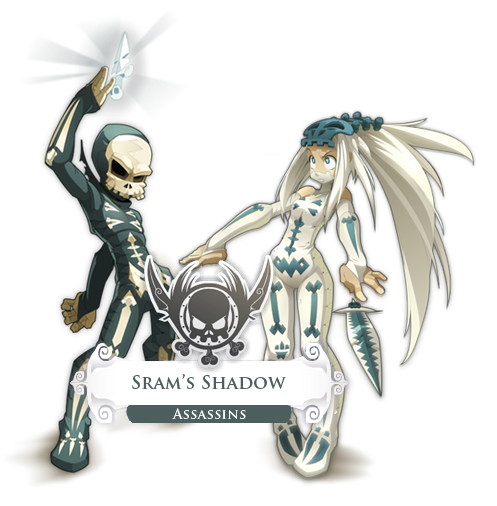 So what are those Srams hiding behind their mysterious masks? No one really knows what they have been up to since Ogrest's Chaos. One thing's for sure though, they're even sneakier than before!
Srams are assassins and become particularly dangerous when attacking from the rear. They can use their traps to manipulate the playing field.
Class Spells
Edit
The class spells available to members of the Sram class are:
Element
Level
Icon
Spell Name
Cost
Effect

Fire
0
Cold Blood
3
Damage, Hemorrhage
2
First Blood
2
If target at full hp: Damage, Hemorrhage; otherwise: Low Damage
4
Torment
5
Damage, % of target's missing HP as bonus damage
7
Bled Dry
4
Damage, bonus damage if enemy's HP is under 15%, Hemorrhage
10
Execution
6
1
Damage, trigger Hemorrhage for increased damage %
Level
Icon
Spell Name
Cost
Effect

Water
0
Bloody Ripoff
3
Damage, attacks steal a % of inflicted damage
2
Swindlesram
2
Damage, attacks steal Dodge
4
Kleptosram
4
Damage, attacks steal Lock
7
Sramshackle
5
Damage, attacks steal MP
10
Petty Theft
5
Damage, attacks steal AP
Level
Icon
Spell Name
Cost
Effect

Air
0
Fear
2
Push 1 cell, Shadowy Cloak gain, attacks sustain Invisibility
2
Tricky Blow
4
Move Away 1 cell, Shadowy Cloak gain, attacks sustain Invisibility
4
Forceful Blow
3
Damage, Shadowy Cloak gain, attacks get bonus damage and sustain Invisibility
7
Guile
1
Teleport behind the target, Turn damage cut down to 75%, Shadowy Cloak gain, attacks sustain Invisibility
10
Trauma
5
1
Damage, trigger Shadowy Cloak for fixed bonus damage, Push 1 cell for every 20 levels of Shadowy Cloak
Level
Icon
Spell Name
Cost
Effect

Support
1
Invisibility
6(3)
2(1)
Makes Sram invisible
Sram to the Bone
Passive
Increases Mechanics, Dodge and Perception
3
Shadow Trap
4(2)
1
Place an invisible trap increasing Perception when stepped on by the Sram or causing MP loss for anyone else. Activation restores Sram's WP
Sram Reflex
Passive
Chance of retreating and gaining 1 MP when hit in close combat
4
Scram
3(0)
1
Gain a little or a lot of MP depending on how far is closest enemy, Shadowy Cloak gain
Master Stabber
Passive
Increases damage from behind, gain Stabber levels
5
Double
6(4)
1
Creates a controllable, but easily destructible copy of the Sram
Look Around You
Passive
Chance of turning an attacked target around
6
Diversion
3(1)
Cross:Chance to turn enemies around
Shadow Master
Passive
Chance of Sram remaining invisible when attacking from back or side while using any of his spells
Health progression
Edit
Srams start with 50 HP, and gain +5 HP per level.
Other features
Edit
Archetype: Tactician, assassin, thief.
Unique features: Hemorrhage, Stealer, Invisibility.
Strike Power: Can deal great amounts of damage by attacking from behind.
Team play: Quickly eliminating weak targets, chasing and crippling targets. Can reposition his enemies a bit to give advantage to his allies
Combat position: Jumping back and forth behind enemies.
Good targets: Weak, ranged, lone targets.
Bad targets: Sturdy targets.
Spell-branch features
Edit
Fire: Dealing high amount of sustained damage through bleeding and then bursting down the target.
Water: Stealing characteristics from targets, weakening them and making the Sram stronger.
Air: Repositioning himself and enemies, maintaining stealth.
Support: Turning invisible, summoning a Double, boosting Sram's damage from the behind and skills changing enemies' facing are the main focus of the branch.
The Sram class, originating from the first Ankama title Dofus, was first introduced as an assasin class with close range and trap attacks. Some of the popular spells amongst the Sram of Dofus included: Mass trap, invisibility, double and lethal attack.
Preview spells
Edit
Ankama previewed a small selection of spells during the initial design period of Wakfu. Though examples of the desired shape of the class, most of these spells didn't make it through to the current version without some alterations.
| Icon | Name | Element | Short description |
| --- | --- | --- | --- |
| | Penetrating Blow | Air | This spell inflicts extremely powerful, thanks to a magic blade that appears on the Sram's fist if he hits his enemy from behind. It inflicts Air-type damage. |
| | Holy Theft | Darkness | This spells enables Sram's to inflict Darkness-type damage when attacking and to get a faith point from their target. |
| | Invisibility | N/A | This spell enables Sram's to become invisible immediately. Their invisibility only lasts for couple of turns or until an attack or skill is activated. |
| | Vile Daggers | N/A | This spell increases the Sram's chance to provoke the "hemorrhage" condition. To casts this spell the Sram must be equipped with daggers. |
The Sram class's full name is "Sram's Shadow"
Sram spelled backward is Mars, which refers to an inside joke in Ankama concerning the candy bar.
Image Gallery
Edit
Sram in-game models

Added by

Defunc7

Original Sram class image of Dofus.

Added by

Clique
External Links
Edit