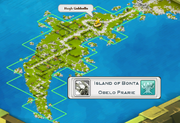 This article is a

stub

and may require expansion. Please help out by

editing the page

on the elements below.

.
The Monty's Prairie is led by Monty Bello. He can teach the trapper profession and will give a +10 hp bonus if there are between 280 and 420 Gobballs in the area. Hint: Planting Gobball Essence when there a not enough Gobballs or killing some when there are too many is a good way to earn citizenship points.
Location
Island: Bonta
Border locations:
Clan Member
Will
Bonus
Resources
Monsters
Locations of Interest
Ad blocker interference detected!
Wikia is a free-to-use site that makes money from advertising. We have a modified experience for viewers using ad blockers

Wikia is not accessible if you've made further modifications. Remove the custom ad blocker rule(s) and the page will load as expected.