In Wakfu, the environment is dynamic: the world isn't fixed, resources won't always appear in the same place. It's up to the players to control the number of monsters and plants, or even the climate. The players can, therefore, be destructive (Stasis Orientated) or beneficial (Wakfu Orientated) and decide what will become of their ecosystem.
Balance in the World of Twelve
Edit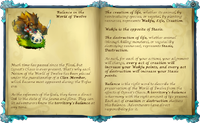 Much time has passed since the Flood, but Ogrest's Chaos is ever-present. That why each Nation of the World of Twelve has been placed under the guardianship of a Clan Member, which became most apparent during the Dofus era.

As the referents of the Gods, they have a direct link to the state of the fauna and flora. They can let adventures know the territory's balance at any time.
The creation of life, whether its animal, by reintroducing species, or vegetal, by plating resources, represents Wakfu, Life, Creation.
Wakfu is the opposite of Stasis.
The destruction of life, whether animal (through killing monsters), or vegetal (by destroying resources), represents Stasis, Destruction.
As such, for each of your actions, your alignment will change, every act of creation will increase your Wakfu points, and every act of destruction will increase your Stasis points.
Balance is the right word to describe the preservation of the World of Twelve from the effects of Ogrest's Chaos. A territory's balance is harmony with the right amount of life present. Each act of creation or destruction shatters this balance. Adventurers have direct responsibility for it.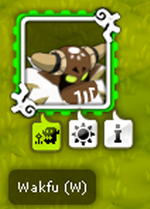 When in a Clan Members territory, players can check the status of the ecosystem by clicking on the Wakfu icon in the upper left corner of the screen, or simply by using the default keyboard shortcut "W". This will bring up an overview of a Clan Member's Will for the current area.
The color of the surrounding frame of a Clan Members portrait in the left upper corner, gives an indication of their satisfaction with their territory's ecosystem, where green reflects satisfaction with the current population and red reflects dissatisfaction with the balance of the ecosystem.
For an overview of all the different ecosystems and their current status, players can check their nation's policies by clicking on the Community button in their action bar. All Clan Members and their satisfaction represented by stars) are shown under Domestic Policy.