Description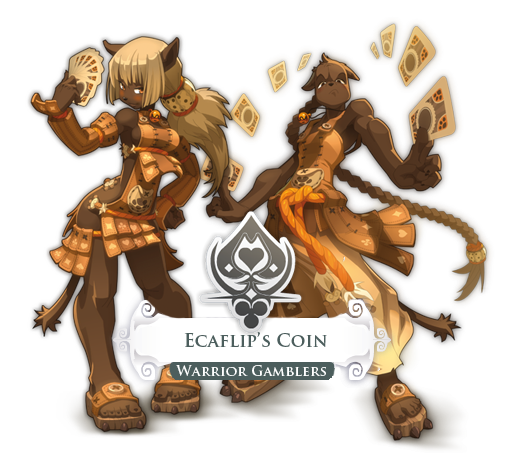 When you're a god, even the roll of a dice is predictable! But for the mere mortals who circle the blackjack tables of the material world hungrily, there is no such luck. And here, it is the Ecaflips who rule over crook, thief and gold-rusher, playing lady luck with supreme skill and recklessness.
Ecaflips are used to gambling on chance. In battle, you'll never know if the next blow coming from the enemy with the catty head will knock your socks off or leave you untouched... they collect game cards and have made fearsome weapons out of them, leaving the swords of the past to other fighters. They might even read your future in these cards... but if they're lucky, you might not want to know what it is!
Class spells
The class spells available to members of the Ecaflip class are:
Element
Level
Icon
Spell Name
Cost
Effect

Water
0
Rough Tongue
2
Damage
2
Fleabag
3
1
Buff: HP steal, -Resist on attacker.
4
Fleahopper
3
HP steal, Adjacent allies: +Critical Hits
7
Fleeches
4
1
Glyph: If foe HP steal when damaged in AoE
10
Flea Love
5
2
HP steal over time
Level
Icon
Spell Name
Cost
Effect

Fire
0
D-Six
4
Damage; Dice Roll, Winning Streak +4 for a 6, -4 for a 1
2
Loaded Dice
3
Damage; Dice Roll, +/-50% damage on next attack. Winning Streak +3 for a 4,5 or 6; -3 for a 1,2 or 3
4
Craps
2
Damage; Two Dice Roll, Increased Damage on 7. Winning Streak +2 for 7, -4 for 2
7
Die Alright
6
Damage; Dice Roll, Bounces to another enemy on Critical Hit. Winning Streak +8 for a 6
10
Dice Roulette
5
AoE Damage/Heal Winning Streak +/-3 per damaged/healed enemy
Level
Icon
Spell Name
Cost
Effect

Earth
0
Heads or Tails
3
Damage then Heal
2
All In
All
Damage per AP, 5% per AP chance of doubling damage.
4
Battle
3
Damage or Heal
7
All or Nothing
2
Damage ,AP refund or End turn.
10
Three Cards
4
1
Damage, Walk on card: Heal, +AP, or -Resist
Level
Icon
Spell Name
Cost
Effect

Support
1
Double or Quits
Free
50% change of doubling previous damage or healing it
Ecaflip's Tarot
Passive
Random bonus/penalty
3
Feline Leap
2
Teleport, +Damage
Ecaflip Die
Passive
+/- Winning Streak level
4
Black Bow Meow
2
1
Summons a Bow Meow, give critical hits/failures
Ecaflip Precision
Passive
Chance to increase damage
5
Roll Again
1
Roll another Dice or draw another Tarot card
Flealine Army
Passive
Earth and Fire spells inflict Flea Love, Fleas steal more HP
6
Cat Tree
2
Increase or dodge incoming damage. If dodged then heal.
Paws Off
Passive
Pushes back an approaching enemy, gives Critical Failure
Health progression
Ecaflip start with 49 HP, and gain +5 HP per level.
Play style
Archetype: Gambler, Cats.
Unique features: Critical Hit manipulation, Fleas that steals HP, Random effects
Strike power: Weak for Water. Earth is random, so isn't specifically weak or strong. Fire ranges from Good to Very Good, depending on Winning Streak.
Flexibility: Good. Movement and random bonuses can help out in many situations.
Team play: Good. Critical Hits, and random bonuses for the group.
Combat position: Flanking positions. Their range and movement means they can't stray too far from the enemies, but can avoid melee combat.
Good targets: Slow melee opponents
Bad Target: Long ranged attackers.
Spell-branch features
Fire: Winning Streak, improve Critical Hit rate
Earth: Ecaflip card based effects and randomized damage
Water: A Self-heal, and Damage
Support: States and Risks
History
The Ecaflip class of Wakfu originated from the first Ankama title Dofus, in which they were a Risk taking character that utilising a number of cat- and gambler-themed skills.
Preview spells
Ankama previewed a small selection of spells during the initial design period of Wakfu. Though examples of the desired shape of the class, most of these spells didn't make it through to the current version without some alterations, if not being dropped all together.
| Icon | Name | Element | Short description |
| --- | --- | --- | --- |
| | Gambit |  ?? | This spell enables Ecaflip to give up some of their faith points to get a random MP, AP or HP bonus |
| | Reflexes |  ?? | This spell enables Ecaflip to get a Dodging Bonus |
| | Mad Cat |  ?? | This spell enables Ecaflip to cast a Huge Mad Cat in the middle of the map which randomly hits some of the players that are part of the fight |
| | Detection Glyph |  ?? | This spell enables Ecaflip to put a glyph on the ground that will enable them to see all invisible characters in the glyph's area of effect |
Trivia
The Ecaflip class's full name is "Ecaflip's Coin"
Players often shorten "Ecaflip" to "Eca" when referring to the class.
Reading ecaflip backwards gives "pilface". Add an "E" in between pil and face and you get pile face. This comes from the French expression "Pile ou face", which is their version of heads or tails.
Image Gallery
In-game ecaflip model

Added by

Defunc7

Concept art for Ecaflip class in Wakfu.

Added by

Clique

Original Ecaflip class image.

Added by

Clique
External Links