Drago-Express
Comments

5
3,857pages on
this wiki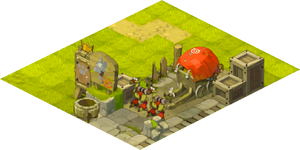 Drago-Express is a means of transportation using Dragoturkeys, which is available to all players. Drago-Express allows you to choose your destination on the World Map. You can only travel to other Drago-Expresses within the Nation you're currently in. Drago-Express cannot be used to travel in a neutral or enemy Nation with the one you belong to, however it's location can be saved for peaceful times.
As of update 1.7, all Drago-Expresses are now free to use and cost 0 kama.
Unlocking
Edit
Each Drago-Express station is not initially available for use when a Server is opened. Each one must be unlocked by providing a number of resources, including an amount of kama. For Drago-Expresses inside nations, a total of 2500
, 100 Planks of Ash Wood, 1000 Buckets o' Water and 500 Wheat Straws are needed for each Drago-Express to be unlocked.
For Astrub Drago-Express, each one has a different resource needed according to the nation its closer to:
Astrub Center
Amaknastrub Road Drago-Express:
Brakmastrub Road Drago-Express:
Bontastrub Road Drago-Express:
Sufokiastrub Road Drago-Express:
Locations
Edit
| Name | Location |
| --- | --- |
| Astrub Center | 2, 0 |
| Astrub North (towards Amakna) | 2, -7 |
| Astrub West (towards Bonta) | -6, 1 |
| Astrub South (towards Brakmar) | 2, 9 |
| Astrub West (towards Sufokia) | 11, 0 |
| Name | Location 1 | Location 2 | Location 3 | Location 4 |
| --- | --- | --- | --- | --- |
| Amakna Headquarters | -5, 0 | -9, -2 | | |
| Amakna Village | 1, 0 | | | |
| Farle's Fields | 0, -5 | | | |
| Hugo's Meadow | 9, -1 | | | |
| Fertile Prairie | 12, -3 | 17, -2 | 12, -8 | 5, -14 |
| Gobballfield Country | 21, -4 | | | |
| Singing Fields | 0, -15 | -2, -12 | -8, -14 | |
| Holey Forest | -3, -24 | 1, -22 | 4, -22 | 9, -27 |
| Traff Algar Square | -13, -11 | | | |
| Emelka | -13, -19 | -12, -24 | | |
| Name | Location 1 | Location 2 | Location 3 | Location 4 | Location 5 |
| --- | --- | --- | --- | --- | --- |
| Bonta Ruins | -7, 0 | -2, 0 | 2, 2 | | |
| Kara | 14, -4 | 18, -4 | 7, -1 | 8, -5 | 8, -11 |
| Cania Plains | 11, 4 | 7, 6 | 13, 8 | | |
| Thicket of Yurbut | 31, 2 | 37, -8 | 30, -4 | 26, -3 | |
| Monty's Prairie | 0, 9 | | | | |
| Gnarled Barklee's Forest | 0, -6 | | | | |
| Cania Swamps | 18, 8 | 16, 4 | 17, 1 | | |
| Name | Location 1 | Location 2 | Location 3 | Location 4 | Location 5 |
| --- | --- | --- | --- | --- | --- |
| Brakmar Headquarters | -9, 2 | | | | |
| Brakmar Village | -6, 1 | 4, 1 | | | |
| Flask Garden | 1, 9 | | | | |
| Mr. M's Lands | 1, -9 | | | | |
| Mourning Wood | 7, -8 | 4, -14 | 13, -9 | 12, -13 | 14, -18 |
| Sidimote Moors | 3, -19 | -1, -21 | 8, -23 | 11, -28 | |
| Pabong Fields | -7, -13 | -7, -17 | -10, -21 | | |
| Gnashville | 6, -31 | 7, -35 | 3, -39 | | |
| Name | Location 1 | Location 2 | Location 3 | Location 4 | Location 5 |
| --- | --- | --- | --- | --- | --- |
| Sufokia Headquarters | -8, 0 | | | | |
| Sufokia Village | 3, 0 | | | | |
| Tydal Prairie | 1, 6 | | | | |
| Hanging Gardens | 0, -6 | 6, -7 | | | |
| Terrana Dune | 11, -1 | 12, -7 | 16, -9 | | |
| Unna Bridge | 17, -14 | | | | |
| Fiery Walk | 10, -18 | | | | |
| Turfo Canyon | 15, -26 | 10, -29 | 5, -31 | 2, -29 | 0, -31 |
| Jumpin' Jungle | -3, -31 | -9, -30 | | | |
| Steamulating Shore | -9, -22 | -17, -28 | -15, -22 | | |
| Name | Location 1 | Location 2 | Location 3 | Location 4 | Location 5 |
| --- | --- | --- | --- | --- | --- |
| Sadida Kingdom | 0, 0 | 0, -6 | 0, -14 | | |
| Monk Island | 0, 0 | 2, -9 | 0, -14 | -6, -15 | |
| Forfut | 1, 2 | 0, -4 | | | |
| Kelba | 0, -1 | 0, -7 | 0, -10 | -6, -9 | |
| Shhhudoku's Kingdom | 2, -1 | -1, -5 | 2, -6 | 10, -6 | 5, -10 |