Brakmar is a Nation that a player can join.
Identity
Once again, Brakmar has risen up above the others. This city is unshakeable.

Our presses are constantly transforming our minerals into freshly minted Kamas, ensuring our wealth. The world has finally started to fight over control of the territories. We need to get the best bits for ourselves, and leave the rest for the others to scrap over.
The sound from our forges already drown out the sound of the other nations' pride.

Brakmar: an archipelago where your holidays could be numbered.

Come and strengthen our ranks!

Master Barney,
Official Archivist
Symbol: Bat-wings around a sword
Colors: Red and black
Territories
| Name | Clan Member | Monsters in the area |
| --- | --- | --- |
| Brakmar Headquarters | Master Barney | N/A |
| Brakmar Village | Jonk Wincey | Piwi, Rat, Bow Meow, Hoodlum |
| Mr. M's Lands | Mr. M | Gobball, Hoodlum |
| Flask Garden | Viscera | Tofu, Scara, Hoodlum |
| Weapons Bridge | Stumpy Jack | N/A |
| Mourning Wood | Phullup | Gobball, Bellaphone, Larva, Snapper, Hoodlum |
| Gobblard Boulevard | Tyra Misu | N/A |
| Pabong Fields | Ely Sianfields | Tofu, Bellaphone, Taur, Strich |
| Scara Pass | Sarko-Phagus | N/A |
| Sidimote Moors | Moe Kneetorks | Chafer, Stalagmote |
| Gnashville | Krustiblak | Mollusky, Kralove |
| Wild Prairie | None | Wild Gobball |
Map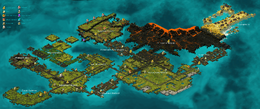 History
In Dofus, Brakmar was one of two opposing PvP Factions, along with Bonta. Players could choose to stay as unaligned Neutral.
Ad blocker interference detected!
Wikia is a free-to-use site that makes money from advertising. We have a modified experience for viewers using ad blockers

Wikia is not accessible if you've made further modifications. Remove the custom ad blocker rule(s) and the page will load as expected.