Ash Trees are a low level tree.
Resources
Ash Tree resources can be collected by the Lumberjack Profession (requires level 0).
Additional Information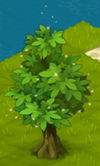 When planting Ash Trees, they may become trees with shine. This is a rare version that gives Jonik Ash Wood when it be harvested.
Locations
Amakna
Bonta
Brakmar
Sufokia
Ad blocker interference detected!
Wikia is a free-to-use site that makes money from advertising. We have a modified experience for viewers using ad blockers

Wikia is not accessible if you've made further modifications. Remove the custom ad blocker rule(s) and the page will load as expected.