Amakna is a Nation that a player can join.
Identity

Amakna has always offered some of the finest cuisine in the World of Twelve

There is no meat tastier than Amakna meat, nor any baker more inspired than those you'll find before Amakna's ovens.
What's more, Amaknian leather dealers strive to make each of their game products more solid than the last.
But the territory conquests have begun and we have to step in to save these natural reserves!

Amakna: an archipelago where lovers of good meat won't have to pay an arm and a leg for a full stomach.
Become a Citizen of Amakna and enjoy the best benefits nature has to offer!

Master Pigmy,
Official Archivist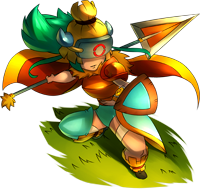 Symbol: A Royal Gobball
Colors: Orange and black
Territories
| Name | Clan Member | Monsters in the area |
| --- | --- | --- |
| Amakna Headquarters | Master Pigmy | N/A |
| Amakna Village | Jonk Andee | Piwi, Rat, Bow Meow, Hoodlum |
| Farle's Fields | Farle Ingalsse | Tofu, Field Plant, Hoodlum |
| Hugo's Meadow | Hugo Bello | Gobball, Hoodlum |
| Crusty Road | Shosanne | N/A |
| Fertile Prarie | Nick E. Larsen | Gobball, Field Plant, Blibli, Hoodlum |
| Gobballfield Country | Xav the Baker | Tofu, Field Plant, Hoodlum |
| Swords Crossing | Bakander | N/A |
| Singing Fields | Shika Ingalsse | Gobball, Puddly, Scarecrow, Hoodlum |
| Holey Forest | Jaffin | Toad, Crackler, Magik Riktus |
| Traff Algar Square | Georgiana Marni | N/A |
| Emelka | Alibert | Treechnid, Arachnee |
| Wild Prairie | None | Wild Gobball |
Map

Ad blocker interference detected!
Wikia is a free-to-use site that makes money from advertising. We have a modified experience for viewers using ad blockers

Wikia is not accessible if you've made further modifications. Remove the custom ad blocker rule(s) and the page will load as expected.